Friendship Ride 2006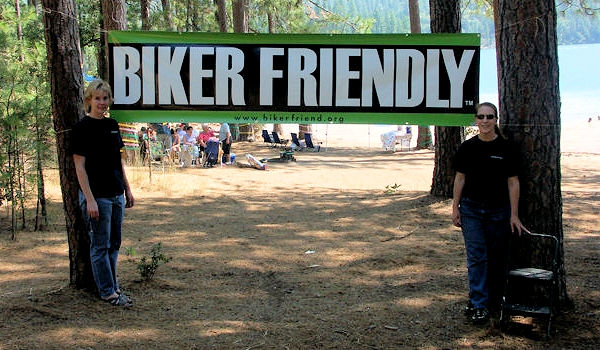 In 2006 we opened up the ride to everyone and the response was tremendous. Riders came from all over California and Shannon was even able to fly out from Alabama to spend the day with us.
Opening up the ride this year brought with it many new riders and bikes. We all met up again this year at the local Starbucks where we did our best to fill up the parking lot with many brightly colored machines. We were lucky this year as the weather was not as warm as it was last year and everyone seemed eager to get on our way after a few sips of some morning Java.
Well, as I found out quickly, with a group of this size there needs to be a little more organization so everyone knows where they should be going. On our way to our first waypoint, soon realized that a fellow rider was missing and must have made a wrong turn. I sent the group ahead as Rob and I set out in search of our allusive rider.
The rest of the group ventured down Road 200 to the regular scheduled meeting spot. Tings were going great until they met one of the area's drivers who didn't feel comfortable driving his strange beast at a normal speed. Thanks to the efforts of one rider (who shall remain nameless) the group made it past safely and on to their scheduled destination.
The next stop was meant to be just a re-grouping stop so we could gather up all the riders. Since we lost one, the group waiting for a bit until we arrived a few minutes later with stray rider in tow. Well, as we all know, once we get those helmets and gloves off, it can be some time before everyone switches back to riding mode after all the conversations start getting interesting.
Just another re-grouping stop after hitting some pretty bumpy and twisty roads on our way across the foothills. Most riders took the opportunity to jump off the bike for a quick snack and cool beverage. Then we all got ready for are ride up the mountain.
Yes, another break after enjoying some of the more interested roads out of Friant. The group enjoyed the time spent while chatting about the ride and talking to the locals how were out on their own day's adventures. By now, tummies were grumbling so it was off to climb up to tollhouse and the most scenic part of the ride.
Bryan went ahead so he could take some action shots of the group as we were heading back down the mountain. It's pretty cool to see yourself riding by as it's not something you see very often.
Our last stop before our final destination at the bottom of the hill in Auberry. We had just traverse one of my favorite roads and it was fun listening to those who have never been on the road, talk about how much fun it was. By now, we were all ready to eat so we road off in search of the bounty that would fill out bellies.
Finally we reach our destination. Michele and the gals had everything ready to go and prepared a great spread for the hungry riders. I finished up the ribs on the BBQ while everyone found their we deserved feast and shared stories from the day. The cool breeze from the lake felt good after the long hot ride. It was a nice way to end the trip and we eventually all said our goodbyes and headed home.
I was followed home by a few friends and family where we rested up and enjoyed the end of the day. I presented Shannon with a replica stone of the one that was place at Laguna Seca this year. Another year and another day with some old friends, and some that I met for the very first time. I couldn't have asked for better group to ride with this day and I look forward to what the next ride has to offer.
I would like to thank Jodi Bearden for providing the design for this year's shirt and for putting up with all my indecision during the process. Jodi, you are one of the most giving and thoughtful people I know and I'm so thankful that we are friends.
To Michele, Elaine, Heather and Shannon, thank you so much for all your support and getting to the lake early to setup for our BBQ. You all did such a great job and it was a welcome site to see at the end of our ride. You really put a great end to a great day and I can't thank you all enough.