Friendship Ride 2007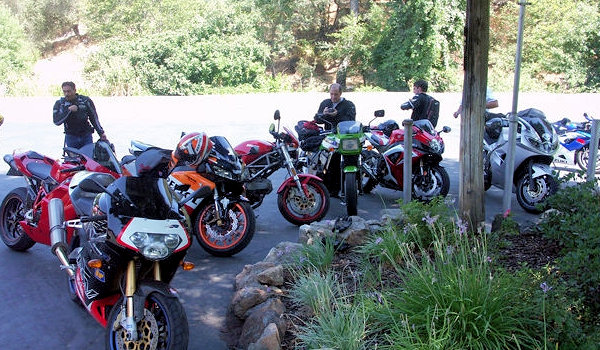 2007 was a bit small, mostly because I didn't get the word out early enough and a lot of riders had already made other plans. The smaller group didn't make for any less fun and it was good to ride with some new faces as well as those that I've ridden with many times before.
As usual, the place to meet was at Starbucks for a nice warm cup before the ride. This year I rode the new bike and was eager to get out and enjoy the route on the new steed. Our youngest rider John unfortunately had his wisdom teeth pulled the day before, but was still ready for the days ride.
The ride went smoothly on down to the lower foothills, with a few weekend travelers breaking our pace. We had hit our first rest spot and time to fill our tanks and stretch our legs. Jodi found out quickly not to socialize while filling her tank. Sometimes the pump still lets out a bit even after releasing the lever. Of course, we all had a few laughs at her expense, but it was all in good fun.
Both Bryan and Jim rode ahead in an attempt to catch the rest of the group in action.
Thanks to all the riders who keep coming back year after year. Thanks to my wife Michele for hosting another great meal at the end of a great ride.
Next year should be bigger and better and hopefully I'll see you all there!