Friendship Ride 2014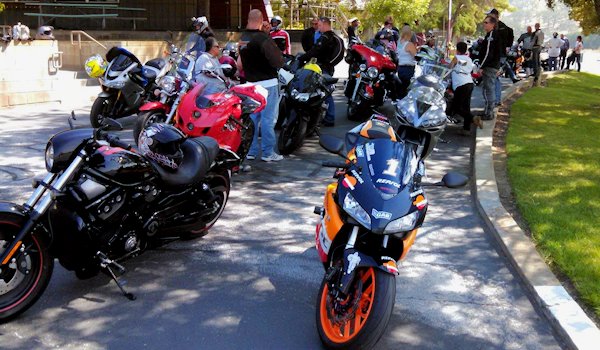 Wow, what a great ride! We had another smoky year due to the nearby French Fire, but thankfully the smoke cleared out pretty good after the first leg of our journey.
The bikes started arriving early, and we were well on or way at the scheduled time. It was so nice to have such a diverse group this year and it was nice to see some familiar faces, some friends I haven't ridden with yet, and all the new riders that seemed ready to check out some new roads. I love the sites and sounds of all the different bikes as we sweep through the valley and up into the Sierras.
I'm not going to sugar coat anything, it was HOT. but we made frequent stops to make sure everyone stayed hydrated and was well rested for the next section. Randy, Don, and Bill helped be keep everyone on route, and I'm proud to say we haven't lost one yet.
This year we had Ian and Rebecca here to serve up some incredible pulled pork sandwiches, dogs and chili beans for the after ride BBQ. Michele prepared some awesome sides including coleslaw, fruit and macaroni salad. Elaine brought her famous chocolate chip cookies, and I know at least one rider who was very thankful she did. 🙂
Once again, Alan and his crew at True Value had everything set up and ready to go when we got there. Although Alan loves to cook for you all, I think he was happy to hop off the bike and just sit down and enjoy the food this year like the rest of us.
This is by no means a one man show, without the help of friends and family the ride would not go as smoothly. Thank you to all the riders that make this event so special year after year.
I know Mike was with me that day, holding on tight, scraping the pegs and smiling the whole way. True friends are never forgotten. Thank you for another incredible day my friend.