It's hot, hot, HOT!
It looks like after the past few weeks of grueling above normal temperatures, cool weather is in store for this weekend's ride. The stage is set for a wonderful day as we complete the last of our preparations. If you plan on making the ride or just meeting us for the BBQ, please take a moment to send me a quick message so we make sure we have enough food for everyone.
I've also been asked many times about donations for the ride. I will have a donation jar available at the BBQ for those who wish to donate. Please note that donations are NOT required and all donates will go towards the purchase of the food and any thing left over will be used for next year's ride. Thanks to all those who have expressed an interest in helping out. 🙂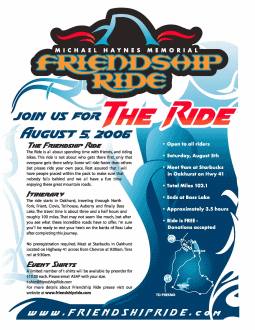 Special thanks again goes to Jodi Bearden for creating this awesome flier for this year's ride.