Today I took my annual ride to remember Mike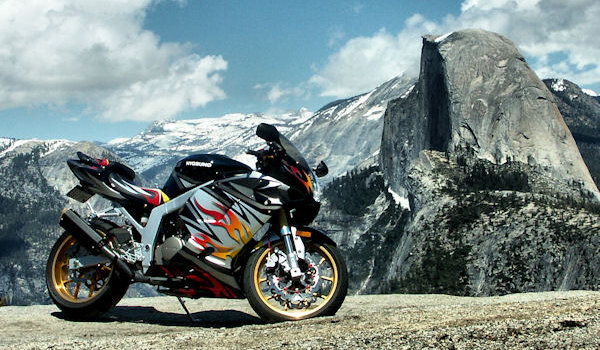 Even though we've been stuck in an unbelievably long winter this year, I decided to take a ride up to Mike's Place at Glacier Point. I've been up here with my other bikes, and figure the little Hyosung was due for its pictures from the top of the world. Had a friend join me for the trip and even though it snowed up at the point only a few days ago, we decided to give it a shot.
The roads were actually pretty clear, with a lot of snow along side. After chilling a bit going up Glacier Point road we were greeted with summer type temps when we reached the point.
We took Hwy 140 down through Mariposa on the way home. Running along the Merced river I could see the water sloshing and peaking much higher than normal. The amount of runoff from the snow fall this year is incredible and it was pretty cool checking it out on the way down the mounting.
Thanks for joining me today Doug, it was truly a great ride!!!